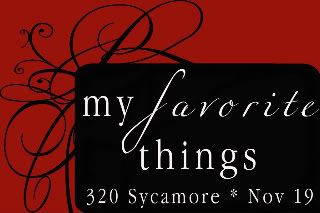 So, one of my favorite blogs is having a favorite things party! Don't you just want to hear all about the things I love? I thought so!

First up, CHICK-FIL-A! I don't think I could live anywhere that didn't have Chick-fil-a! I love their sweet tea and their chicken sandwiches. My true favorite would be a Chick-fil-a Chicken Breakfast Burrito. You don't really need to know how often I eat those. Another reason I love Chick-fil-a is that they are closed on Sunday's. Also the owner and founder of Chick-fil-a, Truett Cathy is an amazing man. Seriously.

Second, my favorite movie ever is Christmas Vacation. I remember seeing in the theatre when I was in third grade. I also remember telling my classmates about the line in there when they ask their great aunt to say grace at Christmas dinner and she replies "Grace, she died thirty years ago!" I went to Catholic school and I so got in trouble for that one. I remember my teacher telling me that saying that was sacreligious. To this day, I don't think so.

I love the fragrance Lovely by Sara Jessica Parker. It's a clean, yummy smell. It isn't heavy or cloying. It's perfect.

I love Lucky Fiona dog collars. Lucky Fiona is a fabulous Etsy shop. My dogs now exclusively wear Lucky Fiona. Shannon, the shop owner, does a terrific job and custom makes each collar for your pooch!

Neosporin Lip Health is AMAZING! I got it for about 17 cents at CVS last month and am addicted. (I'm a serious coupon shopper, this stuff is usually like $6). Anyway, it is the perfect lip gloss/chapstick/balm.

Starbucks Pike Place Roast. I love coffee. I'm a serious coffee drinker. For years I was loyal to Community Coffee, a Louisiana brand. I actually feel like a traitor confessing how much I love Pike Place Roast. It's actually cheaper at Starbucks than Wal-mart. Surprising, isn't it?

My favorite book ever is "She's Come Undone" by Wally Lamb. I read it after my freshman year of college and it touched my heart. I love books about struggle and triumph.

Since I grew up in Louisiana, this stuff is in my blood. You can use it on anything that isn't dessert. You get bonus points in my book if you can properly pronounce it!

And last but certainly not least, my babies. You can't buy them anywhere and that makes them priceless!